In the framework of the European programme Invisible Lines, Central Vapeur organized a cycle of public webinars aimed to artists and cultural operator.
Invisible Lines is a programme developed by the Fondazione Cini, funded by the European Union. All information on Invisible Lines is available here.
Develop your Online communication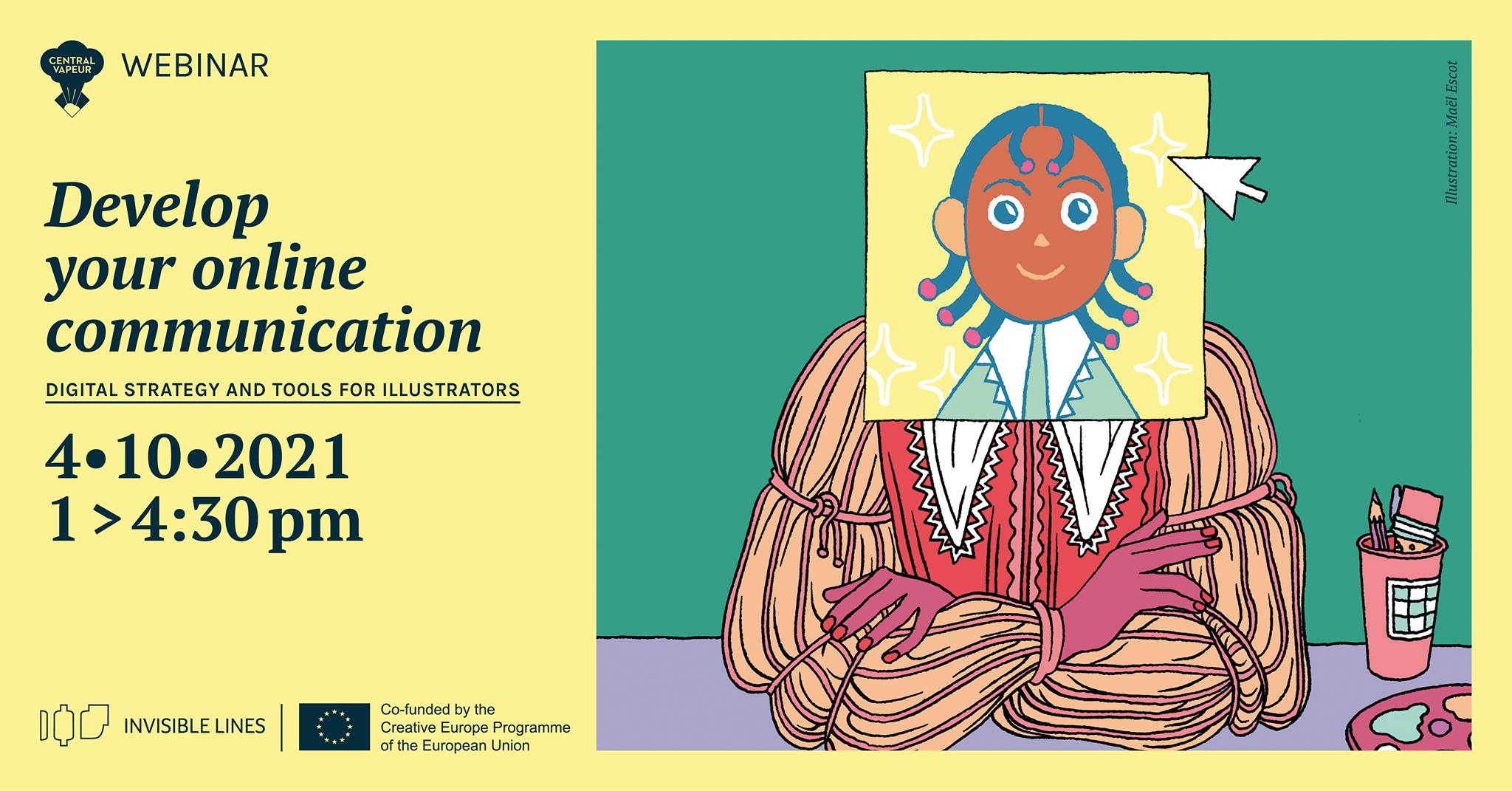 The first webinar takes place on 4 October and is led by digital marketing consultant François Werckmann, and speaker Rachel Hill, member of the AOI (Association of Illustrator). It focuses on online communication strategy. The aim of this training course is to give illustrators a clear framework for action, as well as all the advice necessary to deploy their strategy to develop their online visibility.
A document outlining the different points discussed during the conference is available for download here
The first part of the webinar "Develop your Online communication" with the speaker François Werckmann is available here.
François Werckmann
Born and raised in Strasbourg, François Werckmann is a digital marketing consultant. Holding a degree in international law from the University of Paris I Panthéon Sorbonne, as well an additional degree in comparative law from the University of Paris II Panthéon Assas. He is also trained in digital marketing, steadily building his repository of skills since the 2000s until present day.
François has been supporting his clients across a range of strategic pillars including web market research, the definition of digital specifications, project management and online marketing campaign since 2008.
He leads a vast variety of customers specialised in online commerce, the press or B2B services. He also regularly leads workshops with festivals and illustrators to help them position themselves on the Web. François has also been a lecturer in communication school, in the field of digital marketing.
AOI
The Association of Illustrators is a British trade association for illustration, to advance and protect illustrators' rights. The AOI promotes and encourages commercial and ethical standards within the industry, to improve the standing of illustration as a profession. Established in 1973, the AOI is now a global community of illustrators, collectives, agencies and universities. As a membership based organisation, the AOI champions illustrators and the illustration industry with education, promotion and campaigning to achieve a thriving industry for us all.
Rachel Hill
Rachel Hill is the Membership Director at the Association of Illustrators. Through the AOI, Rachel advises illustrators on self-promotion, portfolios, negotiation and copyright. Having previously worked as an Illustration Agent, Rachel is passionate about helping illustrators take the next step in their careers.
How to build an international project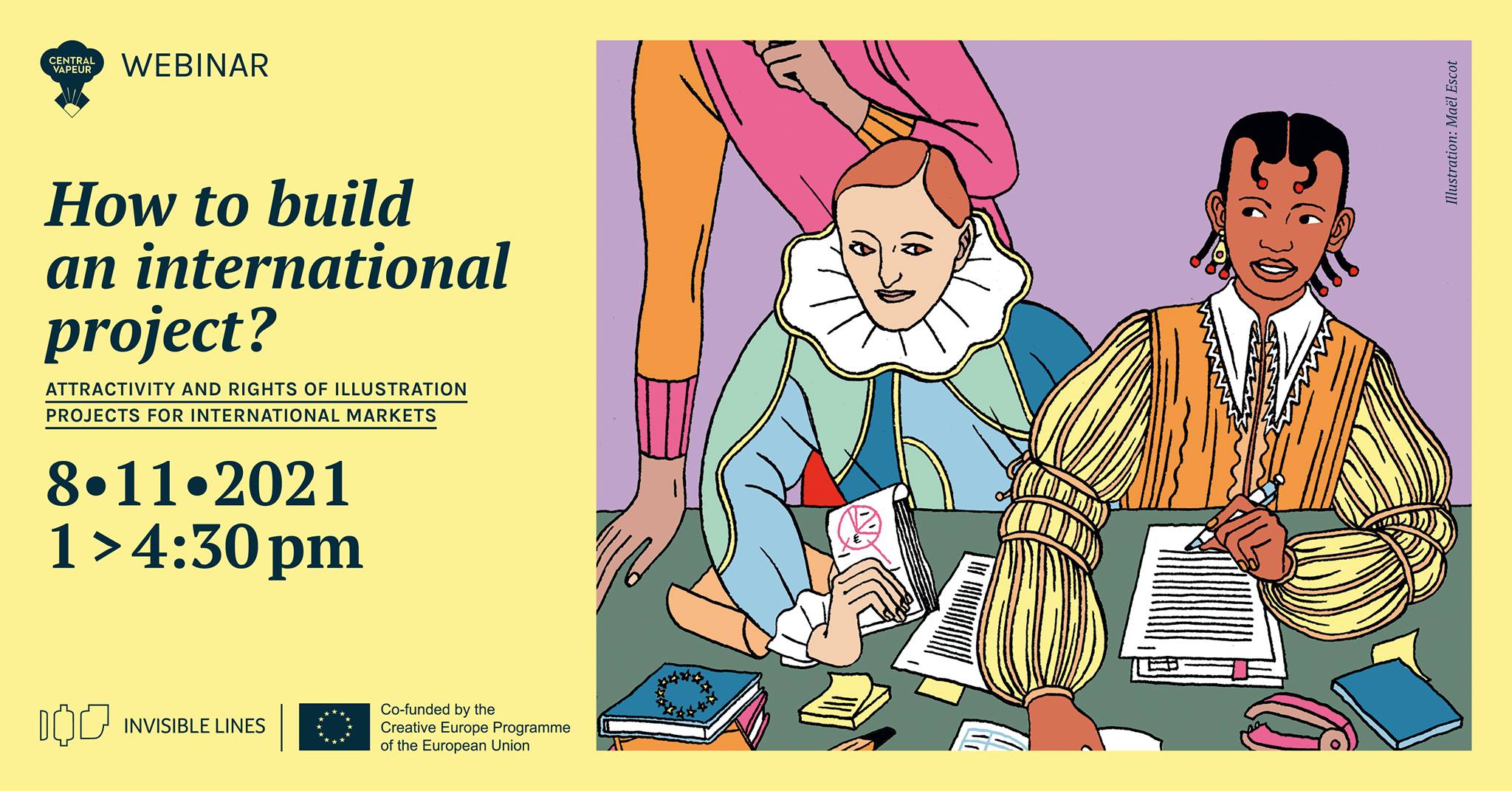 The second webinar takes place on 8 November 2021. It is hosted by literary agent Nicolas Grivel and editor Sam Arthur of Nobrow Publishing.
A document outlining the different points discussed during the conference is available for download here :
The webinar is available online here.
The lecture focus on all the steps to bring a project to the publishers. From the concept of a story to the layout of a book proposal, the workshop also give an overview about all the key points of a contract and try to avoid toxic projects, commissions and contracts for the authors. The workshop ends with how to manage a career in comics art industry. The main goal is to show that thanks to the "globalization", authors can work everywhere and/or bring their own story around the world. Thanks to his experience as a literary agent and scout for the animation studio Laika, Nicolas Grivel bring key information for the audience.
Nicolas Grivel
Born and raised in North Eastern France, Nicolas Grivel is a literary agent (Nicolas Grivel Agency). He began his publishing career in 2003 as a senior editor for Pika (publisher of manga – Hachette France). He now owns an agency specialized in the sale of rights (paper, digital and media) of bande dessinée, comics, graphic novels in creation and in translation around the world. He has sold rights of graphic novels as Ariol by Emmanuel Guibet and Marc Boutavant (in English), Today is the last day of the rest of you life by Ulli Lust (in English), Sam Zabel & The Magic Pen by Dylan Horrocks, The Realist by Asaf Hanuka (in English), Climate Changed by Philippe Squarzoni (in English), A Game for Swallows by Zeina Abirached (in English), Basquiat by Julian Voloj & Søren Mosdal, Peplum by Blutch (in English), Incidents in the night by David B (in English), Grass by Keum Suk Gendry-Kim, À la mason des Femmes by Nicolas Wild, Aldobrando by Gipi and Luigi Critone, Zatim dobry by Jaromir Svejdik & Jan Novak, etc. The goal of Nicolas Grivel Agency is to represent and to push demanding works which make the readers think.
Sam Arthur
Sam Arthur is founding partner and CEO of Nobrow and Flying Eye Books. He studied Graphics at Central Saint Martins, graduating in 1998. He worked as a commercials and music video director before setting up Nobrow with business partner Alex Spiro in 2008. The company now employs 18 staff with two offices, in London and Los Angeles. Their children's books include winners of the UK's prestigious Children's Book prizes the CILIP Kate Greenaway Medal and the Waterstones Picture Book Prize. Amongst their most successful projects is Hilda by Luke Pearson, now a BAFTA and Emmy winning animated series on Netflix.

---