Du 6 au 9 octobre 2022
Central vapeur is organizing its first Format(s) festival dedicated to graphic design in Strasbourg. Its goal? To highlight the different graphic representations of design, namely typography, graphic design, digital design and publishing.
Spread over four days, the festival focuses on the themes of the graphic design world and questions the importance of format in a graphic creation. For this first edition, the Format(s) festival honors the poster format. The program includes exhibitions at the HEAR with the museums of the city of Strasbourg, at the Coop in the municipal exhibition room of the Menuiserie in collaboration with Le Signe Centre National du Graphisme based in Chaumont, conferences with Véronique Marrier (CNAP) and Vivien Philizot, Guillaume Rochais (University of Strasbourg) and Thomas Huot-Marchand (ARNT), and an exhibition at the Garage Coop associating 15 European guests, graphic studios, bookstores, associations, agencies from various fields of graphic design, typography, posters, books, magazines, graphic objects, experiments, etc. etc. etc. All the program to find on the site of the festival Format(s).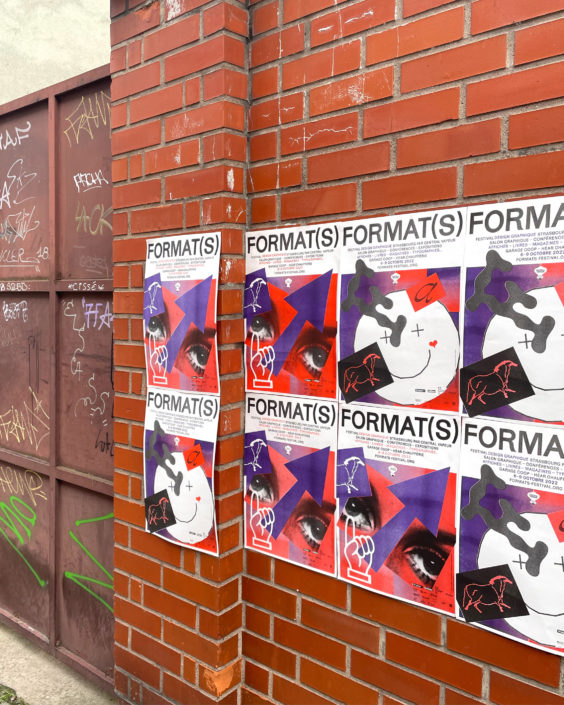 Format(s) Exhibition
October 8th and 9th at Garage Coop from 12pm to 8pm
Dj set on October 8 at 9:30 pm at CRIC
Vernissages
October 6 exhibition Histoire de formes at 7pm at HEAR, La Chaufferie
October 7 exhibition Format(s) at 6pm at the exhibition room of the Menuiserie (Coop)
---